Water Damage and Mold Removal in West Henrietta Regional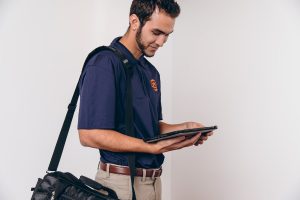 Living in West Henrietta, residents are familiar with a more suburban lifestyle while still enjoying all that New York has to offer. There are plenty of trails and nature settings to explore, making it a more relaxed setting for property owners. That being said, it's still important to take care of your property in case disaster strikes unexpectedly.
Property owners in West Henrietta have their own set of challenges, including inclement weather. Heavy winds and rains are common, as well as tornadoes. Preparing for heavy snowfall in the winter is an important task as well.
How can property owners best protect their property? Simply call upon the restoration experts at 911 Restoration of Buffalo. Our team of trained technicians is IICRC certified to handle some of the most common issues on the property, from flood cleanup to smoke removal. The technicians are standing by for any restoration calls, so don't delay and call 911 Restoration of Buffalo for your own Fresh Start today.
Flood Cleanup After A Burst Pipe
A burst pipe is the last thing that any property owner wants to think about, but the truth is that it can happen when you least expect it. Our water removal specialists are available around the clock to take your call, and respond to all calls for water damage restoration within 45 minutes.
Our specialists take the water removal process very seriously, and make sure to go the extra mile for any flood cleanup services. A complete dehumidifying and drying process is offered, as well as any emergency roof repairs needed.
If you are concerned about your belongings after a burst pipe, that's only natural. Luckily, our time takes extra care to protect them during the flood cleanup process. Emergency boarding up services are offered after any frozen or burst pipe on the property.
A common concern after any burst pipe is the cost of the water damage restoration. Luckily, 911 Restoration of Buffalo takes all insurance and even provides direct insurance billing. The technicians work hard to get you the best price possible. A free visual inspection for property owners only is even provided.
A flooded basement may seem like the end of your property, but our technicians work hard to provide you with a Fresh Start. Call 911 Restoration of Buffalo for your own comprehensive flood cleanup today.
Mold and Smoke Removal Services When You Need It Most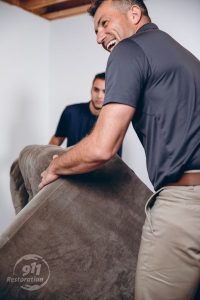 Mold seems to grow when property owners least expect it, but the truth is that the spores can grow up to 24 hours after any water damage emergency. That's why it's so important to act fast and call our technicians for around-the-clock mold removal services.
Our mold remediation technicians have years of experience, and know exactly what to look for when it comes to warning signs. Most property owners don't notice mold on the property until it is too late. Mold can cause difficult symptoms such as coughing, sneezing, bad headaches and more. If you are living with any of these, call our technicians for a mold inspection today.
Mold removal may seem like an easy enough task to take care of on your own, but our technicians urge you to leave it to the professionals. The scrubbing on the walls can leave both you and your property worse for the wear. Our mold inspection technicians use special equipment, including hazmat suits and infrared technology. In certain instances, third-party testing is used to get a better read on the source.
Unfortunately, mold and water damage may not be the last thing that your property in Henrietta may encounter. If your property is hit by a fire, it's important to act fast to access the damage. Luckily, our technicians are available around the clock for any smoke removal services.
Our smoke removal technicians do their best to inspect any damage from the fire. They also take special care of your belongings during the fire cleanup process. Any undamaged belongings will be placed to the side so they can be protected during the fire cleanup process.
Our team takes special care to go above and beyond to remove any excess smoke on the property. A complete fire cleanup is offered, including cleaning dishes, surfaces and any furniture.
Our technicians understand that mold cleanup or fire cleanup can be difficult times for any property owners in West Henrietta, so they go above and beyond to put your needs first. For your own complete restoration, call 911 Restoration of Buffalo today.