Mold Removal in Buffalo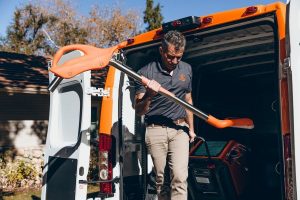 If you think you may have a mold infestation, don't wait until it's too late. Call 911 Restoration of Buffalo for a mold inspection today.
The fungus eats away at the materials of your home or commercial business. Most varieties of mold release dangerous particles into the air you breathe. Protect yourself, your family, your staff, or your customers. Seek a professional mold inspection.
We prioritize your health and safety in all we do, and our mold remediation technicians treat your property as if it were their own. Expect compassion, transparency, and communication.
911 Restoration is licensed, insured, and bonded. We stand behind the respected name of a nationwide company and hold our technicians to the highest standards of service. We are dedicated to keeping costs low while fulfilling your greatest expectations.
Above all, we work hard to give you and your property a Fresh Start.
Don't let mold removal wait another day. Call 911 Restoration Buffalo now.
Removing Mold in Your Basement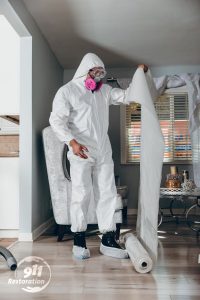 Basement mold is a common problem in the Buffalo area. Between storm leaks and frozen pipe bursts, most local properties have required water damage restoration at one time or another. And if water damage restoration did not include a mold inspection, we strongly encourage you to get an inspection now.
Mold flourishes in dark, damp spaces like basements. Concrete absorbs and stores water. Over time, that moisture rises to the surface, creating a welcome space for mold spores. If you have carpet or floorboards in your basement, you could have a hidden infestation hidden underneath.
Once a colony has established itself in a water-damaged space, its airborne spores can travel to other areas of the property and create new infestations. To protect the health of yourself and your property, always get a mold inspection after water damage restoration.
Our mold remediation specialists are trained in water damage restoration in Buffalo NY. They know which materials are most likely to store moisture. This means they know how and where to search for mold.
Once your dedicated mold removal Buffalo crew is confident they've found every infestation, they bring in professional tools for mold decontamination. They draw on their extensive training to ensure the safe and thorough removal of mold. Once every growth is gone, our team uses professional fans to dehumidify the structure. Finally, they repair or replace any contaminated materials in your home or business. By the time they leave your property, you can enjoy a mold-free, stain-free, odor-free environment.
You've worked hard to make your property a refuge. Let us help you keep it that way. Call 911 Restoration for a mold inspection in Buffalo, Rochester, Batavia, or the surrounding area.
Safe and Reliable Mold Remediation in Buffalo
A mold infestation is not as harmless as it seems.
First, the entire function of mold in nature is to break down organic material. When it grows on your property, fungus devours wooden structures, wallpaper, and even glue.
Second, most varieties of mold are either allergenic, pathogenic, or toxigenic (better known as "black mold"). All these classifications mean the fungus releases particles that are harmful to your health when inhaled. This is why you should seek a mold inspection if you notice unexplained changes to your health, such as dizziness, headaches, or an increase in allergies.
Because mold is so dangerous to your health, it's in your best interest to call a certified mold removal Buffalo professional. Some property owners prefer to handle an infestation through home remedies they found online. While understandable, this choice will only cost you more money in the long run.
Certified mold remediation specialists like ours conduct a thorough mold inspection to ensure no growth goes unaddressed. In many cases, the mold you can see is not the only colony on your property.
 However, if you were to scrub at a colon yourself, you would force the release of these particles directly into the air as you inhale.
Finally, only mold removal Buffalo experts can take additional measures to prevent a repeat infestation. Our crew dehumidifies the site where your infestation occurred. This eliminates moisture, leaving an unwelcoming surface for mold spores.
911 Restoration provides expert mold inspection and mold removal in Buffalo, Rochester, West Henrietta, and the wide region. Our IICRC-certified staff has been trained to handle mold remediation, water damage, and fire damage restoration safely and effectively. That includes repairing contaminated surfaces and drying structures to prevent recurring growth.
Mold remediation may seem like an unnecessary expense. But the truth is, the sooner you bring in a professional, the more money you save in the long run. Call 911 Restoration locations today.
Serving the communities of Buffalo, Clarence, Rochester, West Henrietta and surrounding areas.