Certification and Training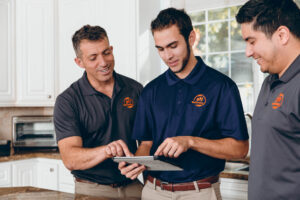 As a company that takes pride in our restoration services, we make sure that our technicians are IICRC-certified. This gives them the necessary skills and knowledge to provide the best possible service to our customers.
IICRC certification is recognize as the gold standard in the restoration industry. It is a voluntary process that our technicians undergo to ensure that they are up to date on the latest restoration methods and procedures.
Our technicians are IICRC-certified to give the best possible restoration service available. This certification gives them the skills and knowledge necessary to provide the best possible service to our customers.
IICRC Certification Is A Must For Any Restoration Project
If you're planning a restoration project, whether it's for your home or business, you'll want to make sure that you hire a certified professional. The Institute of Inspection, Cleaning, and Restoration Certification (IICRC) is the leading nonprofit organization for the disaster restoration industry. IICRC certification is a must for any restoration project.
911 Restoration of Buffalo has the knowledge and experience to deal with all types of restoration projects, from small residential jobs to large commercial projects. We provide the highest standards of ethics and customer service. When you hire a certified professional, you can rest assured that you're getting the best possible service.
If you're planning a project, be sure to hire a certificate IICRC professional. It's the best way to ensure that your project is in the right hands.
We Work With Your Insurance Company
At 911 Restoration of Buffalo, we understand that dealing with insurance companies can be a frustrating and time-consuming process. Therefore our proficient experts will work with your insurance company to get your restoration project coverage. We accept different insurance plans, and will work with you to make sure you get the coverage you need.
Don't let the hassle of dealing with insurance companies keep you from getting the restoration service you need. Come to 911 Restoration of Buffalo, and we'll take care of everything.
When You Need Help Fast – Call Us Today!
We're available 24/7/365 to take care of any damage restoration needs you have, no matter how big or small. We have a team of highly trained and experienced IICRC-certified professionals who are ready to respond to your call at a moment's notice. We understand the importance of getting your home or business back to normal as quickly as possible, and we'll work tirelessly to make that happen.
So if you're dealing with any kind of damage – from water and fire damage to mold and more – don't hesitate to give us a call. We're here to help, and we're always available to take your call.