911 Restoration of Buffalo
Water Damage in Buffalo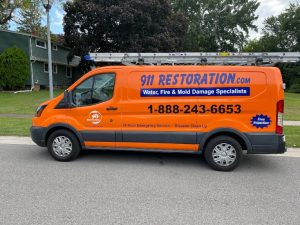 From charming downtowns to green countrysides, the Buffalo area has a lot to offer business and homeowners alike. Unfortunately, this beautiful region comes with a few downsides. Harsh winters and wet springs lead to water damage and property destruction. Add unpredictable disasters like fires, mold contamination, and pandemics, and local property owners have to be especially vigilant.
Fortunately, you always have an ally in 911 Restoration of Buffalo. We serve commercial and residential properties in Buffalo, Rochester, West Henrietta, and beyond. We provide fire damage restoration, flood cleanup, and everything in between. You can even reach us for emergency restoration services 24 hours a day, 365 days a year. We guarantee an arrival time of 45 minutes or less.
At 911 Restoration, we believe every disaster is an opportunity for a Fresh Start. No matter what you've been through, you can count on our technicians to make your property good as new. Our IICRC certified staff does it all, including structural repairs. They work with compassion and transparency, putting your mind at ease.
911 Restoration is licensed, insured, and bonded. We are locally owned and operated, which means we see every customer as an important part of our beloved community. Our restoration staff goes above and beyond to find the answers you need. That includes offering a free visual inspection (for property owners only) and a free insurance consultation. We work with all insurers.
We know the stress you're under. Let us offer peace of mind and a new beginning. Call 911 Restoration of Buffalo today.
Water Damage Restoration
You don't have a minute to lose when water enters your property. You need help immediately.
Turn to 911 Restoration for water damage restoration in Buffalo, West Henrietta, and the surrounding area. Our lines are open 24/7/365, and we guarantee an arrival time of 45 minutes or less.
Whether your roof has been destroyed by an ice dam or you have a flooded basement after a frozen pipe burst, we've got it covered. Our water damage restoration workers do it all, including emergency roof repair, storm repair, boarding up, and leak detection. They pack out and store your belongings to prevent additional damage during the flood cleanup process. Once they complete water removal, they bring in professional blowers to dry the area completely.
We believe in going above and beyond flood cleanup to provide you with a truly Fresh Start. This is why our water damage restoration crew also conducts structural testing and a mold inspection. If they find any damage or infestation, our workers handle repairs or mold removal themselves.
Water damage is an emergency. But it's not a disaster. For fast relief and expert service, call the water damage restoration crew at 911 Restoration of Buffalo.
Sanitization Services & Disinfection Solutions
Property owners already have their hands full. Now that regular disinfection is more important than ever, you might be feeling overwhelmed. Commercial property owners are especially under pressure to keep their public spaces clean and sanitized.
Don't worry. We can help. Our sanitization technicians are fully trained in CDC and EPA protocols. They are up to date on all the current requirements for sanitization and disinfection. This team is thorough and precise. Our disinfection workers are also informed, compassionate, and eager to help you, your staff, and your customers find peace of mind in uncertain times.
911 Restoration offers office deep cleaning, sanitization for residential properties, and disinfection for all commercial facilities. Call now to learn more.
Mold Removal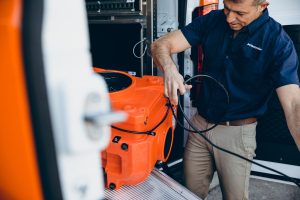 Don't wait to call a certified mold removal company. Fungus destroys the structure of your home or business. An infestation also releases dangerous particles into the air you breathe, potentially causing serious health issues in the long run.
You can turn to 911 Restoration to eliminate this threat. Our mold remediation workers conduct a thorough mold inspection to uncover every trace of mold. Their mold removal tactics are safe and effective. They also secure your property against future growth by dehumidifying the structure where mold grew. Before completing mold remediation, our experts examine your property for permanent staining or damage. They personally repair any problems they discover, ultimately leaving you with a home or business that's cleaner and stronger than ever.
If you suspect you have an infestation, call 911 Restoration for mold removal in Buffalo, Rochester, East Amherst, and beyond.
Sewage Backup and Cleanup
If you have a sewage backup, you probably cannot imagine a reality in which your property feels brand new. Fortunately, our water damage restoration experts can.
Our sewage cleanup crew arrives within 45 minutes of your call, day or night, weekday or weekend. They work swiftly to minimize water damage and limit the cost of sewage restoration. The technicians handle sewage extraction quickly, drying the area to prevent rotting and warping. After sewage removal, our staff sanitizes your home or business. A sewage backup can bring disease-causing bacteria and parasites onto your property. Our sewage cleanup experts work hard to eliminate that danger for you.
They even handle any necessary repairs, whether the floorboards under your toilet have rotted or your drywall is stained. They are also experts in mold remediation, should an infestation develop following your toilet water flood.
We know your home or business feels contaminated now. But we'll have it sparkling and fresh-smelling in no time. Call 911 Restoration of Buffalo today.
Fire and Smoke Damage Restoration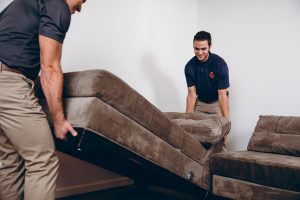 If you need puff back cleanup or fire damage restoration in Buffalo or the surrounding area, let us help. 911 Restoration is fully staffed with smoke and fire damage restoration experts. We handle every step of the recovery process, starting with a free fire damage assessment.
Our fire cleanup technicians remove odors permanently. They use sodablasting to eliminate all traces of soot and ash. Their smoke removal efforts even include cleaning your dishes and furniture. If your property has been soaked by the firehose, our crew handles flood cleanup and mold remediation personally. They complete fire damage restoration with full property restoration. From your roof to your floorboards, our team fixes whatever is broken.
We know how devastating a fire can be. Fortunately, our fire damage restoration crew can lead you to a Fresh Start. Take a deep breath, call 911 Restoration of Buffalo, and hand every worry over to us.
Disaster Restoration
When the unpredictable happens, 911 Restoration of Buffalo is here.
Our disaster restoration staff is trained to confront any eventuality. They handle fire cleanup, water damage restoration, sewage floods, and more. In addition to providing rigorous training, we equip our workers with everything they need to restore your property safely.
We realize how much is at stake when your home or business has been hit by disaster. Trust our disaster restoration techs to get you back on your feet and make your property brand new. Our experts serve you with compassion. They communicate honestly and do all they can to minimize expenses. This includes providing a free insurance consultation and assisting you with paperwork.
Whatever you're going through, you're not alone. Call 911 Restoration of Buffalo today.
Commercial Restoration
Whatever it takes to get your business up and running again, we do it.
It doesn't matter if you discovered a sewage backup in the middle of the night or if you need water damage restoration on a Sunday. We're here 24 hours a day, 7 days a week, and we'll be there in 45 minutes or less.
We hold our commercial restoration staff to a high standard. Every member of our team completes regular, rigorous training. They come equipped to handle any disaster, from fire damage to mold contamination. At 911 Restoration, we value empathy. Our workers put themselves in your shoes, recognizing how urgent your situation is.
Whether it's a frozen pipe burst or a puff back, we'll get you back on your feet quickly and at limited cost. Call 911 Restoration of Buffalo for the customer-focused service you deserve.