Sanitization Services in Buffalo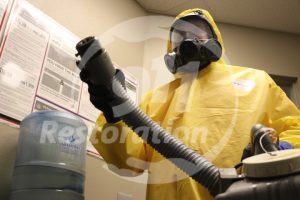 911 Restoration of Buffalo for all your commercial restoration and sanitization needs. Even as regulations regarding the coronavirus change, the dangers of the virus do not. We all must remain vigilant in minimizing the spread of the pandemic, even as we return to work and recreation. Coronavirus remains highly contagious and potentially fatal for some members of our community. We don't need to live in a constant state of fear, but we do need to take responsibility for hygiene, cleanliness, and social distancing.
Property owners especially feel the burden of sanitization and disinfection at this time. If you are a business or homeowner, there are several things you can do to provide peace of mind for your family, your staff, and yourself.
First, stay informed. Turn to reputable authorities like the Centers for Disease Control for regular updates. We are learning new information about the nature of coronavirus every day. The right information helps you maintain a healthy environment. The wrong information can cause you to make dangerous decisions. Always research the source of a coronavirus news item before taking related advice.
Second, be aware that coronavirus is especially dangerous for seniors and immunocompromised individuals. If you live with a member of this vulnerable population, try to maintain a protected, sanitized space that is theirs alone. If you own a commercial property, be aware that you do not know the risk factor for each individual who enters your space. Even if an employee or customer appears young and healthy, they could have an underlying medical condition you know nothing about. They could also care for a high-risk individual.
Follow the Best Practices for Coronavirus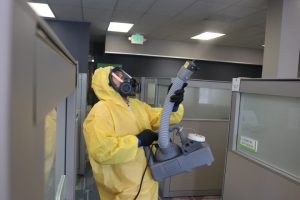 Be cautious no matter who enters your space. Insist on the use of face masks for patrons and staff. Provide the appropriate PPE for your industry. And remember that individuals can spread coronavirus even if they do not exhibit symptoms. Never assume your property is virus-free simply because no one who entered it seemed sick.
Above all, establish a regular sanitization routine. Your staff and guests look to you for reassurance that returning to work or patronizing your business is a low-risk decision. You can ease their mind by thoroughly disinfecting your space frequently.
We know this is another major burden when you're already worried about the decreased foot traffic and social distancing policies. 911 Restoration of Buffalo is here to help. We provide thorough property sanitization in Buffalo, Rochester, West Henrietta, and beyond. Our certified disinfection technicians serve both residential and business properties. 
911 Restoration of Buffalo is an IICRC-certified Sanitization and Disinfection company that can reign in your fungi problem promptly. Thankfully, it is also a nationwide restoration company with local expertise in water damage, fire damage restoration, and disaster restoration services.
We know this is a challenging time for everyone. Please know you always have an ally in 911 Restoration Buffalo. Call us anytime.