Residential Loss Assessment & Property Restoration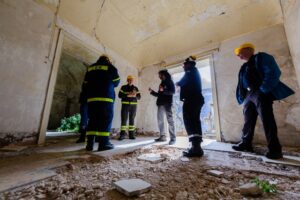 In the aftermath of a storm, fire, flood, sewage backup, or any other crisis, any homeowner's number one priority should be to secure the priority after getting to safety. Once you and your family are safe, you must quickly work to avoid further losses by hiring professional home restoration services to assess the damage and make essential repairs to return your property to its original condition, or better. 
In this post, we'll share a brief overview of the residential loss assessment & property restoration process so you know what to and expect throughout. 
The Importance of Timely Damage Assessment 
The purpose of residential loss assessment is to identify the cause and extent of the fire or water damage. A timely damage assessment can ensure that homeowners don't forget details of their unfortunate events. The assessment can also help when filing a claim to the insurance company. In simple words, it gives you the idea is what's working, what's safe, and what's gone. 
An Overview of the Residential Loss Assessment & Property Restoration Process
For homeowners that have experienced property damage recently, here's a breakdown of the assessment and the restoration process:
Damage Assessment and Documentation
The first thing homeowners need to do is to visually inspect their property to get an idea of the extent of the damage. For instance, how deep did the fire penetrate the floors or how much water is there in the basement, etc. Hiring a home restoration service will give you a comprehensive assessment of the damage. Initial checks involve assessing if your property is habitable or not. Later, the team will conduct detailed surveys to verify losses and estimate repair costs by documenting the incident using photos, videos, security footage, and minor repairs, etc. Homeowners can then submit this record to the insurance company and file their claim. 
The restoration professionals will also commence the inventory or content restoration process so you can recover valued items that have been damaged in the event. Some valuable items include:
Fabric and Textiles
Sheets and bedding

Curtains

Carpets

Clothing and shoes

Toys and stuffed animals

Towels

Luggage and handbags
Mementos
Photographs

Artwork

Collectible items

China

Upholstery
Furniture
Dining tables

Beds

Antique furniture

Desks

Couches
Electronics
Laptops and/or computers

Household appliances (oven, washing machine, coffee maker, etc.)

Gaming consoles

Televisions

Printers, fax machines, and cellphones
Documents and Paperwork
Books

Medical records

Bank statements

Tax records

Legal documents
Once the restoration team has the green signal from the insurance company, they can move on to major repairs and replacements. But before that, they need to secure the property to prevent any further damages. This starts with closing any holes, stabilizing any weakened structures, or pumping out water. Experienced professionals would also look for hidden damages or potential threats that can cause homeowners trouble in the future. 
Smoke, soot, mold, and water stains can be difficult to clean on your own. Water and fire damage professionals use industry-grade equipment and solutions to deep scrub, sand, and refinish different surfaces to get stains and odor out. For water damage, they will employ additional equipment, such as heaters and dehumidifiers to dry out the walls, ceilings, and floors before sanitizing everything. 
After drying and cleaning, the home restoration service starts structural repairs, such as building walls, repairing/replacing floors, and repainting the space, etc. This process involves stripping, sanding, cementing, and refinishing all the damaged surfaces to their original condition. Repairs can take place in the kitchen, flooring, bathrooms, basements, porch, plumbing, roof, HVAC ducts, and electrical panels, etc. 
Many homeowners in Buffalo use disasters as an opportunity to remodel or renovate their properties. Cleaning and repairs usually take days or weeks so why not do more than simply returning your home to its original condition, especially after extensive damages? Not only is this a smart way to feel better after a tragedy, but also a great way to save a lot of money since your insurance company will cover all or most of the costs.
Renowned Home Restoration Services – 911 Restoration of Buffalo
Once you've complete the walk-through assessment of the damage, it's time to call the professionals to start the restoration process. However, you need to do your homework before hiring people to take care of water or fire damage repairs. You can check with your insurance company for recommendations. However, many insurance companies work with cheaper services to minimize costs, so it's ideal to look for better options around you. 
At 911 Restoration of Buffalo, we have a local team of highly trained and experienced home restoration professionals that can assess all visible and hidden damages to give you an estimate of total damage. Moreover, we're equipped with industry-grade equipment and have the expertise to return your home to its original condition following a fire, flood, or natural disaster. 
Feel free to call us for more information regarding our home restoration services.