2021 In Review – Statistics About Fire Damage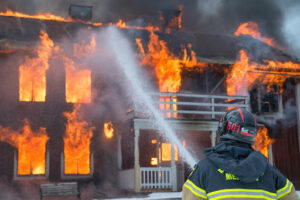 Everyone already knows how dangerous fires are. But not everyone knows how common they are. Fire can be catastrophic to any and everyone, which is why you should know how to prevent and contain house fires. In this article, we will show you some statistics about fire damage so that you know about the real dangers of structural and residential fires. 
Statistics About Fire Damage
Fire causes 0.22% of deaths in the world 
House and structural fires are one of the leading causes of death worldwide. Fire comes in 27th place on the top 30 biggest causes of death globally.  
House fires caused $8.4 billion in property damage  
Even though the number of house fires that happen yearly has been declining over the last few years, the average cost of property damage has been on the rise. House fires have been getting costlier and costlier to properties and owners each year.  
Every 93 seconds, a home fire occurs 
Over 400,000 fires happen in residential properties each year in the United States alone. This means that almost every 90 seconds, there is a house fire happening in America. This statistic shows you how common fires really are and why you should know how you can stay protected from them.  
An average of 7 deaths occurs every day in the US due to fire-related incidents 
Fires in residential buildings like homes and apartment buildings kill almost seven people each day. These deaths add up to over 3,000 deaths yearly in the US. The state with the highest fire death rate in Mississippi, with over 25.1 deaths per every million people!
Around 500 children of the ages of 14 and under die each year due to fires 
Children are at greater risk of dying due to residential fires than adults. Children under the age of 5 are twice as likely to die in a residential fire than any other age group. 
Almost 50% of house fires are related to cooking incidents 
Cooking is the leading cause of house fires per year, with over 170,000 cooking-related fire incidents happening each year. This means cooking-related incidents account for 49% of all house fires. Other leading causes include electrical malfunctions, heating equipment during winters, and being careless with flames.  
During winters, heating equipment reportedly causes an estimated 48,000 house fires. These heating equipment-related fires have resulted in the deaths of over 500 people and over $1.1 billion in property damage over the past five years. 
Also, 18,000 fires are started due to fireworks during holidays and celebrations, and almost 28,400 fires were reported to be caused intentionally. 
Smoke related deaths are the most common 
Most fire-related deaths result from smoking toxic fumes and gases produced during a house fire. Actual burns and flames account for only about 30% of fire-related deaths.
Smoke alarms save lives 
The death rate in homes with no smoke alarms or working smoke alarms was reported to be almost twice as high! 41% of fire-related deaths occur in homes with no smoke alarms. For every 1,000 fires, there are 13 deaths in homes with no working smoke alarms and 5.8 in homes that did have working smoke alarms.  
Small fires can turn deadly in less than 30 seconds 
Small house fires can turn into major blazes in just 30 seconds. And in just over 3 minutes, the temperatures from a house fire can reach up to over 1100 degrees Fahrenheit. Fires can turn deadly very quickly. This is why it is important to have a good evacuation plan for you and your family, a working fire extinguisher, and a working smoke or fire alarm at your residence.  
There has been a 1.18% increase in wildfires in 2021. 
In 2020 52,113 wildfires were reported. In 2021 that number has risen to 52,729. Climate change and global warming have caused an increase in the number of natural fires occurring throughout the world yearly. 
3% of house fires are caused by wildfires 
Even though only about 3% of all house fires are caused by wildfires, these account for almost 11% of houses that are completely lost to the fire. Wildfires are extremely dangerous and hard to put out or contain and can rage on for weeks. 
96% of homes in the United States have had some form of fire-related damage 
A whopping 96% of residences in the United States have experienced some sort of fire or smoke-related damage. Almost everyone experiences a fire-related incident in their home at one point in their lives. The house you are living in right now might have some fire-related damage you might not even know of.  
After looking at all these statistics and facts about the causes and results of fire damage globally, you will want to be extra careful about preventing fires of all kinds in your home. If you do or have experienced a fire incident in your residential or commercial property, call 911 Restoration of Central Buffalo now at (716) 986-9899 or visit our website. Our team of experts is highly trained, and IICRC certified to help you with all kinds of fire and water damage restoration that you might require. We work closely with our customers to make your already hard times a bit easier and help you get your home back to its original glory as quickly as possible.