Hoarding Cleanup Services in Buffalo – Cleaning It All Up With a Smile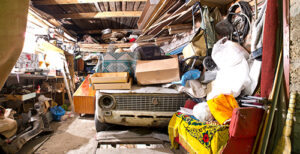 If you have ever seen a relative stock up on pantry supplies, never let go of vintage keepsakes, or guard old memorabilia, you have met a hoarder.  It's unsurprising, considering that approximately 5 to 14 million Americans have been clinically diagnosed with this problem.
Uncontrollable hoarding refers to a psychological disorder that compels affected individuals to collect and store items without reason. It's an excessive and sometimes unnecessary accumulation of worldly possessions. These people find it challenging to discard old belongings or part with unwanted items after prolonged storage.
Unfortunately, when hoarding habits go out of hand, you don't wind up with more than a stack of boxes. You have to deal with biohazard materials such as feces, rodent droppings, mold, and bacterial investigation.
Treatment can often take years of practice and persuasion.
Until then, you can hire hoarding cleanup services in South Jersey to do some decluttering around your (or your loved ones') home.
Here's an overview of what this entails: 
Hoarding Cleanup Services: What Do Professionals Do?
Clearing away a hoarder's living space can be challenging depending on the size of the house and how long the hoarded stuff has been lying around. This tedious task requires goal-oriented planning with attention to detail on execution during extraction. You may need high-grade equipment to get rid of biohazard waste and mold infestation.
All these requirements make it necessary to seek professional consultation. You can determine what you need to keep, donate, and dispose of with their assistance. After a proper assessment, the hoarding cleanup service providers will come in and set things in order.
Common tasks include:
General cleaning and organization services to sort unwanted items from salvageable possessions.
Debris removal to dispose of trash and waste.
Sanitization and deodorizing services to eliminate musty smells and odors associated with stuffy rooms, old objects, and an unclean environment
Biohazard disposal services for pest invasion, mold infestation, and traces of toxic fluids (i.e., blood and urine).
Assist with the paperwork associated with disposing of items belonging to a deceased family member or friend
Moreover, specialists can sort items for distribution within the family, recycling,  and donations. Or another sustainable way to clear out things that are still in prime condition and can be put to good use.
On the whole, hoarding cleanup services vary from project to project. Our professionals will discuss removal strategies to prioritize your needs throughout the process.
Navigating Uncharted Territory: Why Should You Hire Specialists?
Cleaning a house or storage unit belonging to a hoarder can be unsafe if things have been left untouched for years. You never know what type of biohazard you will find within the treasure trove. That's why asking experts to step in can prove beneficial for you.
Trained technicians know how to deal with a hoarding situation effectively. There are times when they might have to wear protective gear (like gloves and boots) or a complete hazmat suit to reduce contamination and infection risks.
They also know how to do the job:
Efficiently. We conduct a complete assessment and inspection of potential health hazards and structural damage caused by neglect.
We sanitize and disinfect the area to clean unhygienic places and make them habitable again.
Our cooperative team doesn't fuss and does its best to ensure that you don't get embarrassed by the hoarding situation.
In short, experts know how to take control of unmanageable living spaces and convert them into a clean and healthy environment. Without their help, you'd be looking at an overwhelming amount of cleaning tasks and some hazardous scenarios.
The Timeline: How Long Does It Take to Declutter & Clean?
Hoarding cleanup services require a flexible schedule that aligns with client needs. Projects like these can take weeks or even months, depending on the house size and its conditions. You might face delays if the original owner (aka. the hoarder) is present during the decluttering phase. That's because they might prevent the cleanup crew from discarding their special items.
Alternatively, it takes our team a week or two to clear up smaller areas that only need general cleaning.
We will need to conduct a proper home inspection before creating a schedule.
It's a Wrap
On the whole, hoarding cleanup services can be beneficial for home and property owners. You can use professional assistance to clear your mess (or one a loved one left behind). Having specialists by your side simplifies the cleanup process and negates potential health hazards.
Otherwise, you might find yourself in a risky situation.
Are you looking for hoarding cleanup services in Buffalo? 
911 Restoration can come to your rescue. Our friendly team of accredited professionals has the expertise required to resolve all types of hoarding challenges. We offer associated mold removal and home restoration services if required.
Call (716) 986-9899 for a consultation today!